You have made it to the end of the first part of your first AP Seminar task! You have rocked it so well and I am so proud to see what you have accomplished! I have some tips and tricks as you finish up this weekend. If you were absent on Friday then this will be VERY useful!
Here is the document that we used in class on Friday to help you edit a peer's paper. This can easily be applied to your own paper by yourself — just turn the they's into your's…etc. Once you edit your essay this weekend, you can use it a second time! Remember that the difference between row 2 & 3 is that row 2 is asking about the credibility and validity of the arguments you found in your research, while row 3 is asking about the credibility of the authors of the sources you have included. This is NOT an argumentative essay!
As I printed off your drafts earlier today, here is a list of things that I noticed could be fixed:
If you include a 

title

, which I recommend doing, then make sure you captialize all of the major words! For example:

T

he

F

all of the

E

mpire

C

hina is

O

pening

N

ew

D

oors

If you include 

subtitles

they should be left aligned (not indented) and bolded so that they stand out
When

formatting

your essay, make sure EVERYTHING is in Times New Roman, Size 12 Font, Double Spaced, black ink —- even your Works Cited
Your

Works Cited

page should be alphabetized with hanging indents. It should begin at the top of the page, not in the middle. Check this! It should also not have extra spaces between each entry – this defeats the purpose of the hanging indents. Unsure if it looks right? Check out the sample on page 361 of the Bedford Researcher! You can also google OWL PURDUE MLA and you will get to a sample!
Be sure to

indent

each new paragraph — even the first one!
Ask yourself, am I using a variety of

transitional strategies

?
As you prepare this weekend, review the rubric! It can be found here. You can also review the power point from Monday's class where we analyzed the rubric here. These are great ways to look at what works and what is missing! AP Seminar Task 1 Essay Analysis is the document that we color coded in class on Monday also!
Lastly, read your paper out loud, and backwards, and have someone read it to you, and read it themselves, and run it through Grammarly. EDIT IT! Do not miss something for a silly reason! Ask a friend from school or from the neighborhood!
As a reminder, your essay is due THIS Sunday (2.4.18) to Google Classroom & TurnItIn.com! Directions and reminders for submission are on Google Classroom!
Best of luck!
---
---
I know that you are starting to feel like this,
But, soon you will feel like this,
Remember  that on Monday you will join back up with your team, so you'll look like this,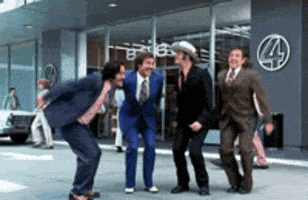 yippee! You are doing awesome!