It is time to move back into teams and work together!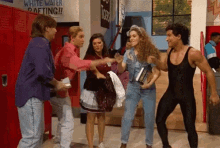 This week you are beginning step 2 of Task 1 for AP Seminar — the team multimedia project.
On Monday you will read your peer's IRR's and map out (actually) on Google  how your ideas, research, and solutions work together. You will also aim to decide on an ultimate solution for your teams issue/problem. The Mind Map is due by Tuesday night at 11:59pm on Google Classroom. In the Google Classroom assignment, you can see a STELLAR example from last year.
The team discussions and planning will continue through Tuesday and Wednesday as you begin to create your team multi media presentation via Google Slides, PowerPoint, or another community based program. Remember, you must be able to ALL work on the presentation, so Prezi may not be a logical idea for this project.
By Thursday you should be practicing your presentation — remember I am helping you set goals, but each team will be different. While practicing you should also be working on your oral defense answers and deciding what you will wear. Your practice will continue through Friday.
There is a Saturday Session this week so that teams are able to meet up and practice their presentations! We will meet in the media center from 9am to 12pm. Please sign up on the back board, where it says "Information Center." There must be a minimum of 10 students attending for the session to occur. **I recommend talking with your team on MONDAY to decide if you are going to attend the session.** You are welcome to attend and work on something else if you would like, or meet your team for part of the time, etc.
Your team slides/powerpoint will be due on Monday February 12th by 11:59pm to Google Classroom. Presentation sign ups will occur in class at the end of this week.
---
The grammar focus this week will be on pronoun-antecedent agreement & vague pronouns. There is a practice on NoRedInk.com that is due on Wednesday at 11:59. Follow this link to and this link to find some additional notes! There will be a QUEST on Friday in class to show your understanding of these concepts.
You will also have a CommonLit assignment due on Monday February 12th by 11:59pm.
Lastly, Current Event #5 is due on Friday this week, in class. Remember to attach notes or an annotated article to your worksheet in order to receive full credit.
---
Before School/Lunch/After School Schedule
| | | | |
| --- | --- | --- | --- |
| | AM | Lunch | PM |
| Monday | 7:30 – 8:30 | N/A | N/A |
| Tuesday | 7:30 – 8:30 | Open | Until 4:30pm |
| Wednesday | N/A | N/A | N/A |
| Thursday | 7:30 – 8:30 | Project Life Meeting | Until 4:30pm |
| Friday | 7:30 – 8:30 | Open | N/A |